Studio City Apartments near the Hollywood Bowl
Welcome to the San Fernando Valley—a perfect collection of cultural experiences and entertainment. Overflowing with opportunities, the Valley features big-city access while retaining a small-town atmosphere. The Arbor Apartment community lies tucked into its own little piece of Studio City, an action-packed area of the San Fernando Valley.
In anticipation of your arrival, we've designed a printable welcome brochure full of useful information. Inside, you'll find helpful phone numbers, practical shopping suggestions, and other details regarding the Arbor Apartment community neighborhood.
Below, you'll also find a few quick links to places and events in the Studio City cultural scene. From art to restaurants to recreation and more, there's truly something for every budget, age, and interest.
If you need directions or a map to the Arbor Apartment community, we've got that ready for you as well. Just click the Map & Directions button, enter your starting address, and you're set to go. See you soon!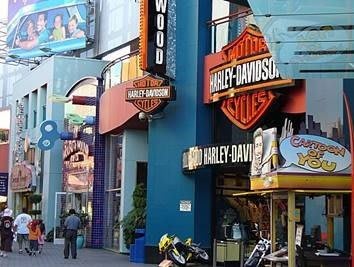 Welcome to the Neighborhood
You've got a great apartment in an awesome location. You're all settled in and have some time on your hands. What do you do? Get out and explore the neighborhood, of course! No matter what you're in the mood for, the probability of finding some new favorite places is high.
The San Fernando Valley is a bustling artistic community, with art shows, theatres, and live concerts in the park. If you need coffee, a meal, or a midafternoon break, cafes and restaurants are easy to find. The Ventura Blvd. district features an array of food as well as shopping and fun, and makes a great place to explore on the weekend. Mall shopping, family opportunities, and more are within easy reach as well!
If the outdoor life is calling you, feel free to listen. The Valley offers offer picnic spots, play areas, and organized sports leagues in a variety of places. From Woodbridge Park to Fryman Canyon, you can exercise, relax, or enjoy a peaceful hike. And every Sunday, all year round, the Farmer's Market is a beautiful outing for handmade items, freshly picked produce, and family-friendly fun.
A+ Travel Access
Close to The Arbor Apartment community, the Universal City Metro Orange Line quickly connects Studio City to Downtown Los Angeles, Universal City, and Warner City. It also provides easy access to the 101 and 134 freeways, making a trip or commute stress-free from Studio City to any part of Los Angeles (and beyond).
Whether you're just moving here for the very first time or already have some background in the area, Studio City welcomes you. Stay in the neighborhood or explore beyond—and The Arbor Apartment community will be waiting peacefully for your return.